The coronavirus epidemic is growing rapidly across the world as many begin to fear for their health & safety. As if there isn't already enough to be concerned about, cyber criminals are taking advantage of the pandemonium and are conducting phishing scams, spreading malware, and stealing login credentials. The Cyber Security Firm, Check Point stated that over 4,000 coronavirus related domains have been registered. 3% of the websites are considered to be malicious and the other 5% are deemed suspicious.
In one instance, hackers created a copy of what looks to be the World Health Organization (WHO) website. The only difference being that they added an email box on the home page. The actual WHO site does not contain a web mail service. Hackers were hoping that you would believe that their page was real and enter your details.
Similarly, there have been multiple campaigns targeting organizations and their email addresses in attempt to promote fear of the virus. Hackers are sending a phishing email pretending to be a representative of the World Health Organization. Here is an example of one the emails that was sent: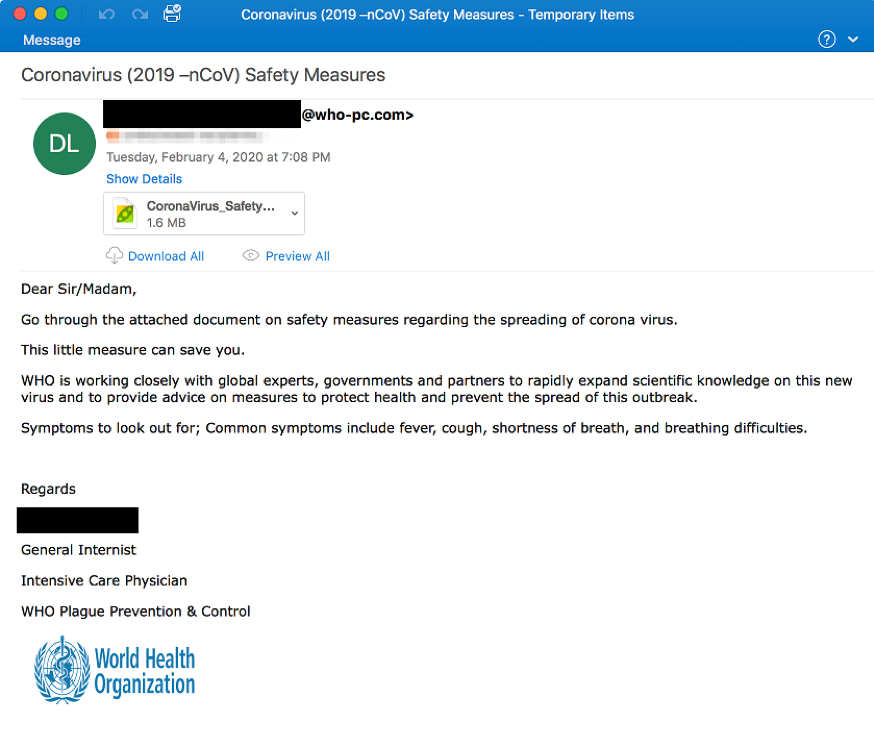 An example of a phishing email claiming to be a WHO representative | Proofpoint 
As fear continues to grow, there is no doubt that cyber criminals will continue to take advantage of concerned civilians. Here are a few ways you can avoid getting a coronavirus computer virus-
Pay attention to who the email is coming from- The only email address associated with the World Health Organization are emails ending in @who.int. Any other email address should be considered as a scam.
Be careful about opening attachments- The phishing emails that are being sent out come with what looks to be a PDF attachment. If the attachment is open, malware will be installed. Never open the attachment if you are unsure who you are receiving the email from.
Educate your staff on what to look out for- Make sure you train your employees on what to look out for when receiving an email from an unknown address. Keep yourself and staff in the know of any coronavirus updates.
More coronavirus related phishing campaigns are continuing to pop up as the virus continues to spread across the world. Check out Threat Insight's Twitter for daily updates on the coronavirus scams. If you have any further questions or want us to perform a Free Network Audit to ensure your computer has the correct security protections against hacker attacks, please give us a call (904) 443-6046 or click the link below and fill out the form.
FREE Computer Network Audit-
https://www.dpctechnology.com/free-computer-network-audit/