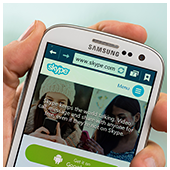 Skype as a desktop communication tool is largely popular with consumers and businesses alike, yet its mobile app leaves much to be desired. Whether it's the slow VoIP service or limited communication features, there's definitely a lot of room for improvement. And apparently, Skype has acknowledged these concerns as they've recently launched Skype Mingo, a communication hub for Android OS. Let's find out what it does and how it improves upon its previous iteration.
Skype Mingo borrows a lot from the original Skype app's features and interface, but with some slight differences. For instance, Mingo allows you to manage call history and phone contacts. This means that if you use Mingo's search function, the mobile app will search both your Skype directory and your contact list.
Skype Mingo also comes with SMS relay, a feature that allows you to sync native texts with your Skype account, Skype desktop program, and mobile app. All these features suggest that Skype wants smartphone users to set Mingo as their default for photo sharing, SMS, VoIP, file sharing, and contact management.
What's more, Mingo reinforces Skype's already strong data-powered video and voice-calling functionality. Microsoft promises that the communication hub is "small, fast, and optimized for speed." So far, we know that Skype plans to achieve this by offering solutions for data saving through Economical Calling and On-Demand Sync features.
If that hasn't sold you on the Skype Mingo, you'll also be able to enjoy the full functionality of Skype bots and virtual assistants for numerous tasks. Need to look for cheap flights? Let Skyscanner know about your travel plans. Want to schedule meetings on the go? Send Zoom a message to set an appointment. Need some medical attention? The Baymax bot can be your healthcare companion.
It's certain that most of the possibilities that were once out of reach for mobile phones are now possible thanks to Microsoft's innovations. Though it's unclear how it will affect the way we use our VoIP or messenger applications in the near future, Skype Mingo definitely looks like a promising addition to the Skype brand.
Currently, the app is still in its alpha testing phase, so expect new features when the full version is rolled out. We will likely keep track of Mingo's development and public release date, so stay in touch with us to get the lowdown on Skype.
Published with permission from TechAdvisory.org.
Source.