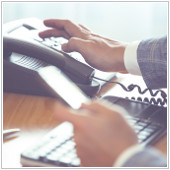 As VoIP stormed onto the small business scene over a decade ago, a lot of businesses wanted to get in early. The only problem with doing so was that early iterations of this technology didn't include advanced call-forwarding and "Follow-me" features. Newcomers made expensive outlays for new handsets that seem far less necessary today. So, for those asking "Do I really need VoIP handsets?" we're here to help you find the answer.
Before you can answer your million dollar question, you need to examine the day-to-day calling strategies of your office. Consider the following six questions before deciding whether or not to purchase office handsets:
Question #1: How often would employees answer work numbers from their mobile devices if you purchased desktop phones?
We've all been there, you see a great new feature and automatically jump to the conclusion that you don't need legacy technology. Just because call-forwarding and follow-me features are convenient, doesn't mean you should use them exclusively. If employees would use desktop phones for more than half of their calls, you probably don't want to skimp on handsets.
Question #2: Do your employees ever take calls from their personal numbers?
If employees are already handing out personal numbers to customers and clients, the transition to taking work calls on their mobile device is far more likely to go smoothly. If not, you need to clarify what's expected of employees during off hours before making the decision to go 100% mobile.
Question #3: How much texting, emailing, and messaging do employees do from their personal mobile devices?
Similar to question #2, how much business is already taking place on mobile devices will play a big factor in transitioning to a mobile environment. If your team is taking calls at their desk, but sending the majority of their text-based correspondence from mobile devices, getting rid of desktop phones may actually be a more streamlined approach.
Question #4: Do you want employees to focus on desktop integrations during calls?
Don't forget about the profitable ways you can integrate a desktop phone with customer relationship management software, productivity tools, and call tracking. Most of these won't be nearly as effective when 100% of calls are taken from a mobile device.
Question #5: Does your company have a mobile device management system in place?
Unless your organization already has a full-fledged BYOD plan, it's not prepared for the onslaught of security risks associated with connecting your business data to your employees' personal devices. In an all-mobile environment, every single employee device would need to be set up with a personal profile and a work profile to keep the two data streams separate and secure.
Question #6: What are employee experiences with call quality on mobile devices?
Preconceived notions from employees about VoIP call quality can play a tremendous part in a mobile device transition. If employee devices are older, run-down devices, there may be problems with getting the most out of your VoIP solution. And even if your organization is providing the mobile devices, employees may still be looking to complain to colleagues, and even customers, about the "reduction" in call quality -- even if there's none to speak of.
The sexiest answer isn't always the right one when it comes to technology. Going all-in on a mobile call strategy may sound great as a headline, but it's not a project to be taken lightly. However, if it still sounds worth it you, we're the team to make it happen. Contact us today to get started.
Published with permission from TechAdvisory.org.
Source.