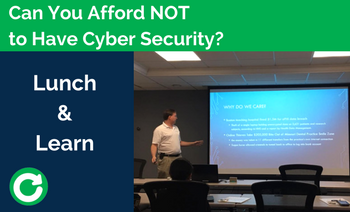 Over the last few months, we've been ramping up for our cyber security seminar series and today we launched our first seminar at the DPC Technology Center in Jacksonville.
Our Chief Technology Officer, Daniel Nicolitz prepared an informative and educational presentation, but first we heard from our vendor partner, Sonicwall. Michael Respert, our Jacksonville Territory Sales Manager at SonicWall, shared a his insight on HackerCraft and how customers can avoid a breach. We will dive into this topic for next week's blog on How to Avoid a Security Breach.
Michael's presentation was an excellent segway for Daniel's presentation, "Can You Afford NOT to Have Cyber Security." It's no secret that every business today relies on computers, tablets, phones, and other internet connected devices. Our seminar focused on the aspects of technology that relate to the modern dental practice and the need to protect sensitive office and patient data. It also highlighted basic cyber security concepts, so that our clients can protect themselves and their practice.
The course also provided dental professionals with familiarity with the technology involved in cyber-security, familiarity with basic cyber-threats to a modern dental office and essential steps needed to secure technology found in all modern dental offices.
If you would like Daniel to host a Lunch and Learn at your office or if you would like more information, please contact our office (904) 443-0095.
In case you missed this seminar, we will be offering it again this summer and will be offering Continuing Education credits.
We hope to see you at our next seminar! For more information on our upcoming seminars visit our events page.