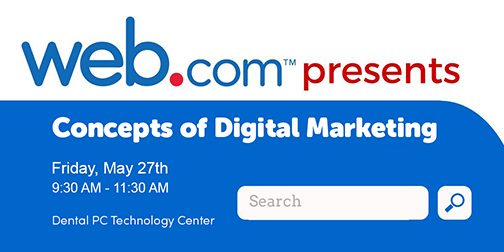 Join Web.com on May 27th  at the Dental PC Technology Center for Concepts of Digital Marketing
Presented By: Scott Green of web.com
Event Cost is $39 and is FREE FOR COMPLETE CARE CLIENTS
BREAKFAST IS PROVIDED
Catered to small and medium size local business owners, at this event you will learn  the foundational knowledge of being successful at digital marketing.
PLANNED TOPICS INCLUDE: 
Concepts of Digital Marketing and 2016 Google's Changes to the Search Engine Results Page (SERP)
What is online advertising?
Power of Effective Online Marketing
How has marketing changed over the years?
Online Marketing Growth & Basics
Overview of Google Search Results
Introduction to Marketing Channels

SEO

What is SEO?
Value of SEO/Benefit to SMB
Relevance & Credibility
Link Building
Keywords
SEO-Friendly Content
On-Site SEO & Off-Page SEO
How SEO Works

Google My Business (GMB)

What is GMB?
Value of GMB/Benefit to SMB
How GMB Works
Relevance & Credibility

PPC

What is PPC?
Value of PPC/Benefit to SMB
How does it work – bidding/budget, conversion?
Customer-Focused Search
Analyze Results
About Web.com
Web.com Group, Inc. (Nasdaq:WWWW) provides a full range of Internet services to small businesses to help them compete and succeed online. Web.com is owner of several global domain registrars and further meets the needs of small businesses anywhere along their lifecycle with affordable, subscription-based solutions including website design and management, search engine optimization, online marketing campaigns, local sales leads, social media, mobile products, eCommerce solutions and call center services. To get more information, visit web.com; follow Web.com on Twitter @webdotcom or on Facebook at facebook.com/web.com.