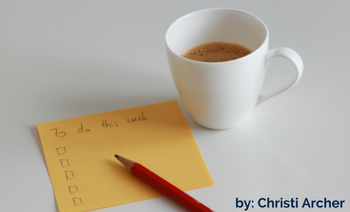 In honor of the upcoming Spring season I would like to go over a few things I do to stay on target and be productive while at work. It is very easy to get off task when things are coming at you from all directions during the day. Here is how I try to make the most of my work day:
Use a process like Traction for Meetings/To Dos
I have read several books and watched many Ted Talks on how to stay organized and on task. None of these books has compared to the book Traction by Gino Wickman. Traction spells out how to set your Quarterly Rocks for the company and then work backwards from there. They also have a great tool you can subscribe to that helps track your meetings and progress throughout the year. It is a bit pricey, but totally worth it in my opinion. My other 2 ideas kind of spin off from the ideas from the book/tool.
Use a top 5 list of Rocks
The Traction Tool helps you set your rocks for the quarter, but I also like to distill this down to a list of to-do's that help me reach those rocks. Each day I write down my top 5 rocks and basically if all I got done that day was maybe 1-3 of that list, it would be a good day. If you are wondering why I am calling them "rocks" read this article
Respond to emails once a day
I got this idea from the Four-Hour Work Week by Tim Ferris. This is a great way to cut back on distractions throughout the day. I now have a time set aside each morning to respond to emails. I try to stick to that time frame and not get distracted throughout the day. Tim Ferris takes it a little further and has an auto reply when he gets an email that lets everyone know he only checks email at 10 am every morning so he will respond at that time. I haven't been gutsy enough to go that far, but I think just setting aside time has helped tremendously.
There you have it. Three quick ideas on how to stay on target throughout your busy work day that will also help you make sure you get the most out of your time.